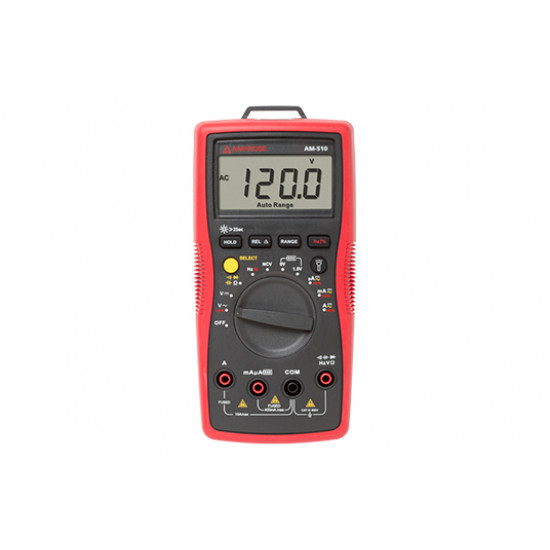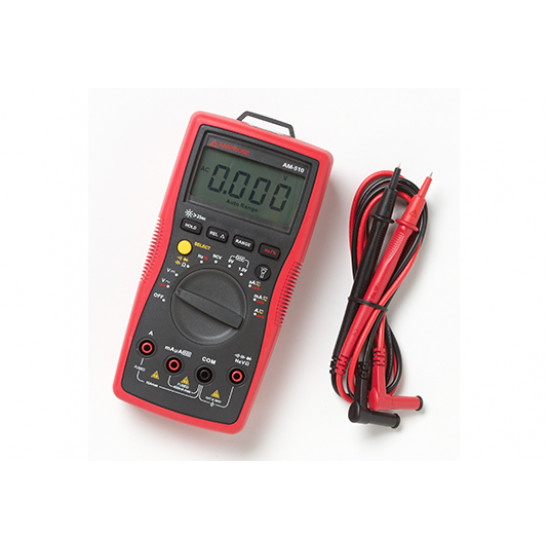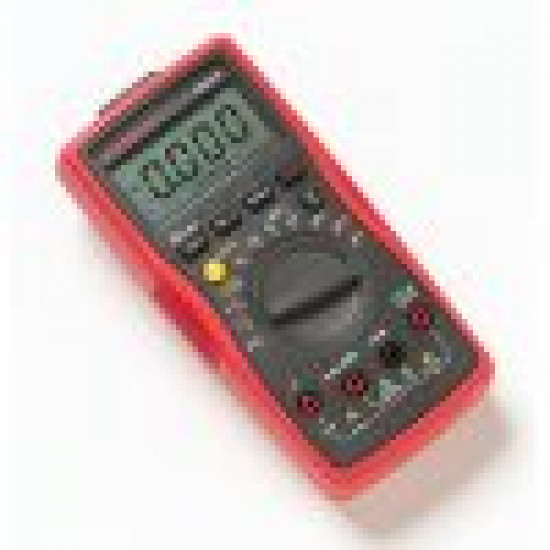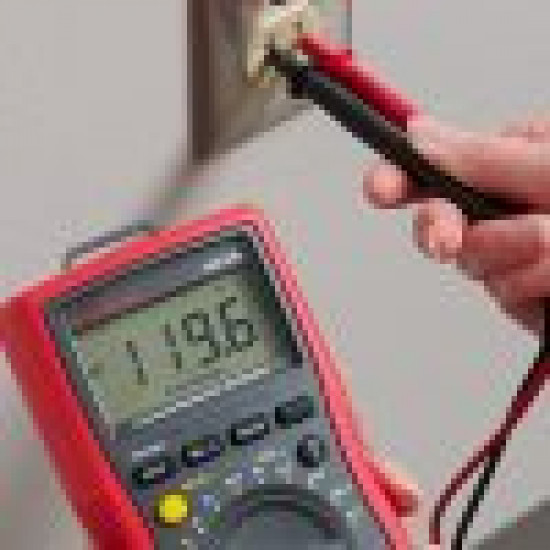 2-3 Days




Digital multimeter AM-510-EUR
Compact yet rugged, the Amprobe AM-510 Auto-Range Selecting Digital Multimeter delivers precise and rugged performance for light commercial and advanced residential applications such as rewiring an electrical panel, installing underfloor heaters and lighting, troubleshooting and repairing household appliances, electrical outlets and automotive electrical problems. Its CAT III safety rating and ease of use make it ideal for high voltage multimeter applications. The innovative digital multimeter allows for quick Go / No-Go checks, and the built-in light makes it easy to see wires and fuses in the dark. A tilting rubber base and probe holder provide a "third hand" when needed.
Features and Benefits :
• AC / DC voltage measurements. up to 600 V, AC / DC current, resistance, frequency, capacitance, duty cycle and temperature
• CAT III 600 V safety
• Non-contact voltage detection for better safety
• Audible continuity quickly identifies shorts and open circuits
• Diode test to verify diode polarity
• Data retention locks the reading on the screen for later analysis
• MIN./MAX recording. records min./max measurements. over time to show voltage fluctuations
• Relative zero mode displays the difference between the actual reading and a stored reference value, and can be used with any function or range.
• Combines user-friendly features like auto power off to conserve battery life, low battery alert, third-hand test probe holder, built-in test lead storage, integrated pocket and Velcro strap for attaching the device
• Automatic and manual range selection for maximum flexibility
• Backlit LCD display for easy viewing of results
Standards
CAT III 600 V
comes with
• 1 9 V battery (6F22) installed
• Test leads
• User's Guide
Technical characteristics :
Attribute value
Multimeter type Portable
Maximum absolute DC current 10A
Maximum absolute AC current 10A
Maximum absolute resistance
40MΩ
Maximum absolute AC voltage 600V
Maximum absolute DC voltage 600V
Maximum absolute capacity
100µF
Measured functions AC current, AC voltage, Capacities, DC current, DC voltage, Resistance, Temperature
Maximum frequency 400 hz
Maximum frequency 400hz
Display type Digital
Model number p
AM-510-EUR
Dimensions
182 x 90 x 45mm
Optimal AC voltage accuracy
±0,8 % + 1 digit
Amprobe Portable AM-510-EUR Multimeter, 600V AC 10A AC
Stock:

2-3 Days

Model:

AM-510

Amprobe