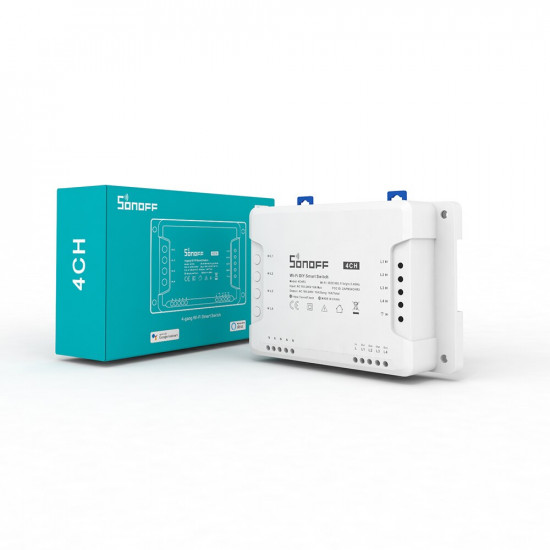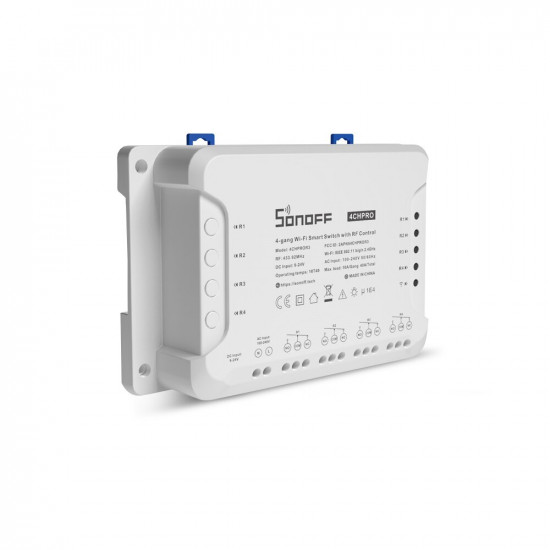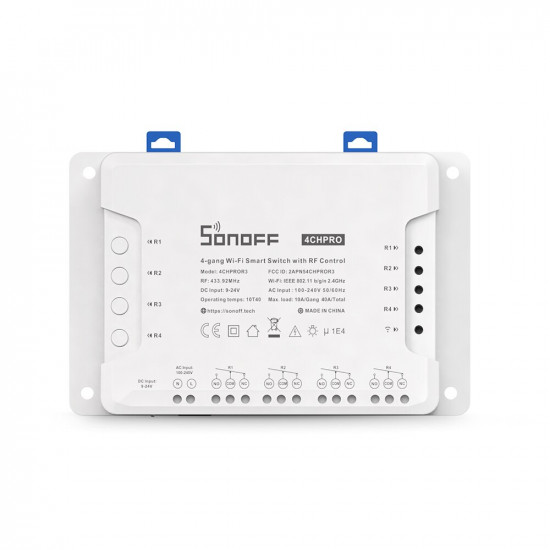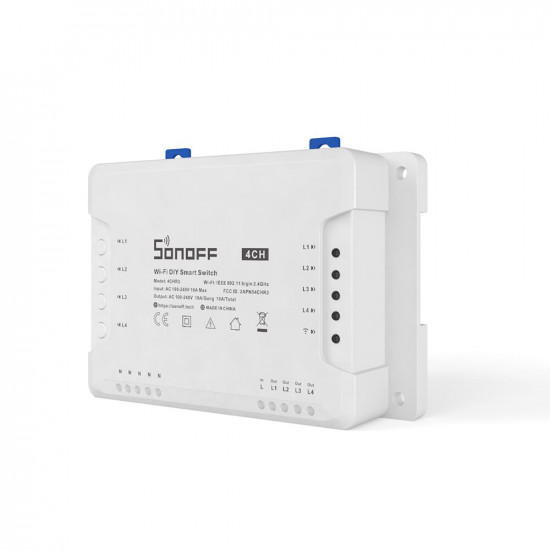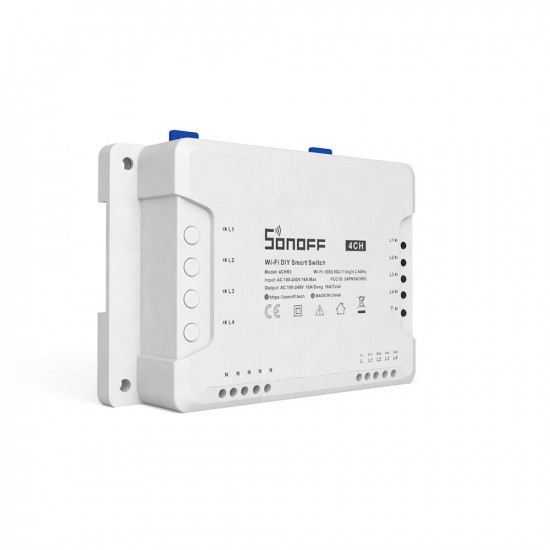 Hot





Sonoff 4CH PRO R3 Smart Wifi RF Switch 4 Gang 3 Working Modes Inching Interlock Smart Home Ewelink Switch Work With Alexa Google
SONOFF 4CH PRO(R3)
4CH Pro R3 are 4 gang WiFi switches. They support switching among 3 working modes: interlock/self-locking/inching mode, and both supports to set time delay in inching mode. This feature allows you to let your switch turn on for a few seconds then goes off, which works like a pulse switch. They integrate with a 433.92MHz RF receiver module, making them possible to be controlled by RF Remote. The smart switches are DIN Rail mounted.
Users can remotely turn on/off the connected lights/appliances by iOS/Android App eWeLink or 433MHz RF Remote. They can create 8 enabled single/repeat/countdown timers to automatically turn on/off at the specified time. The timers can run themselves even when the network is unavailable. To let the devices be controlled by others, users can simply share the devices to other accounts and allow specified timers permissions. Users can even create some scenes or smart scenes to trigger ON/OFF the switch.
Features
Turn on/off 4 home appliances remotely
Supports switching among inching/interlock/self-locking modes
Device status's synchronously display
Scheduled/Countdown timers
Share control
Supports setting power on status
433MHz RF Remote control
Works with Amazon Echo, Echo Dot, Amazon Tap
Works with Google Home, Google Nest
Works with IFTTT
Specifications
Voltage Range: 90-250V AC(50/60Hz) / 5-24V DC
Max Current: 10A/gang
Max Power: 2200W/gang
Wireless Frequency: WiFi 2.4GHz
Wireless Standard: 802.11 b/g/n & 433.92MHz
Security Mechanism: WPA-PSK/WPA2-PSK
Enclosure Material: Fire-retardant ABS V0
Gang: 4
Operating Temperature(recommended): 0ºC-40ºC(32°F-104°F)
Operating Humidity: 5%-90%RH, Non-condensing
Product Care:dear friend because of the freight for safety, the RM433 is without battery,please know that,if you want to use the remote you need to buy the battery(27V 12A) by yourself,thanks a lot!
FAQ
1. My device has added successfully but stays "Offline"?
Answers: The newly added device need 1-2 min to connect to your router and the Internet. If it stays offline for a long time, please judge the problem by the wifi led status:
1.1. Wifi led quickly blinks one time and repeats, which means device failed to connect to the router. The reason may be you have entered wrong WiFi password or your device is too far away from the router, which causes a weak WiFi signal. The device can not be added to the 5G-wifi-router, only the 2.4G-wifi is OK. At last, make sure that your router is MAC-open.
1.2. Wifi led slowly blinks one time and repeats, which means the device has connected to router and server but failed to be added to device list. Then power on the device again, if it still not working, just add the device again.
1.3. Wifi led quickly blinks twice and repeats, this means the device has connected to the router but failed to connect to the server. Then please confirm your WiFi router works normally.
2. Why the APP can not find the device in pairing status?
Answers: That's because of your phone's cache. Please close the WLAN of your phone then open it after a minute. At the same time, please power off the device if you can, then power up to try again.
3. My WiFi is expired, can I connect the devices to LAN?
Answers: Currently this product does not support LAN or directly connect to hotspot. It must connect to the WiFi router with a normal network that can visit the Internet.
​
ITEAD SONOFF 4CH PRO R3 433MHZ 4 CHANNELS GANG RF WIRELESS REMOTE WIFI SMART SWITCH RELAY ALEXA GOOGLE HOME
Stock:

In Stock

Model:

4CH PRO R3

Dimensions:

145.00mm x 90.00mm x 34.00mm

SONOFF