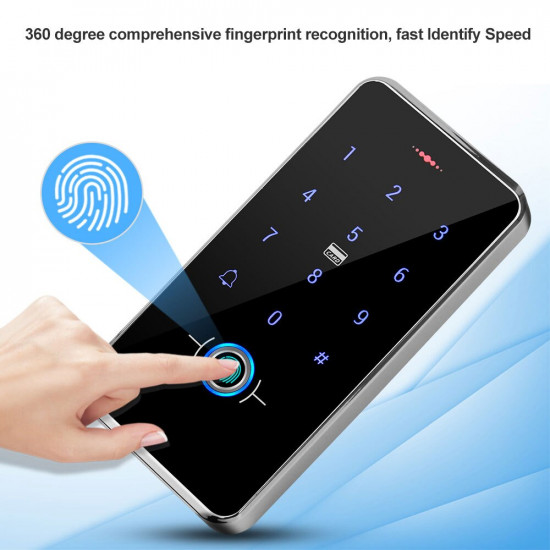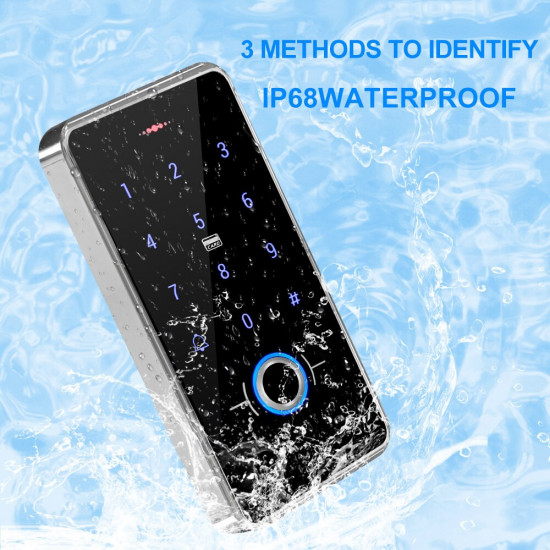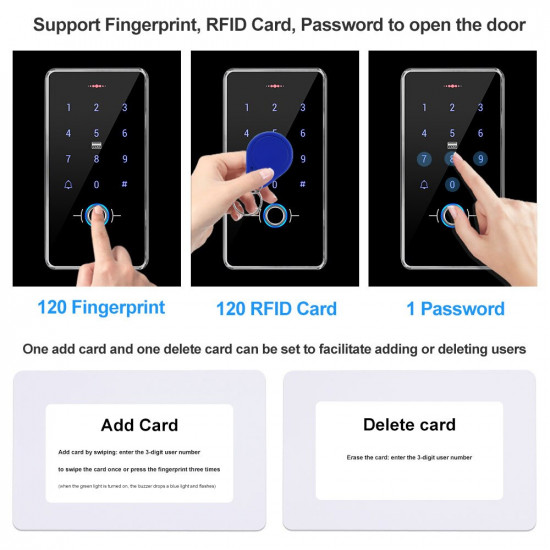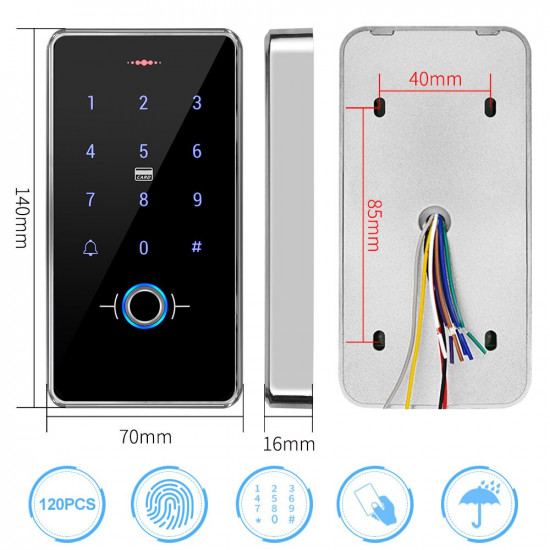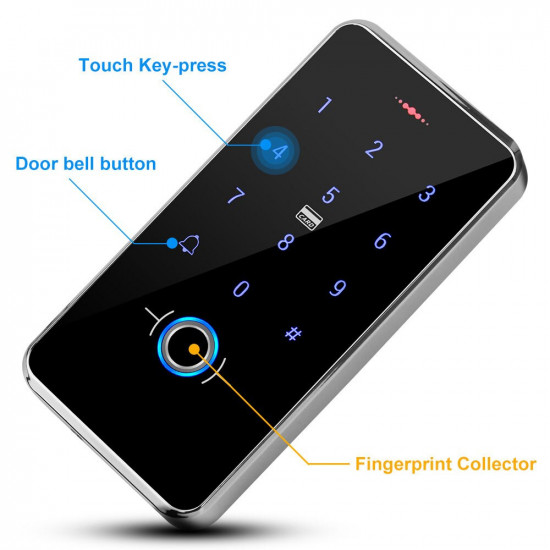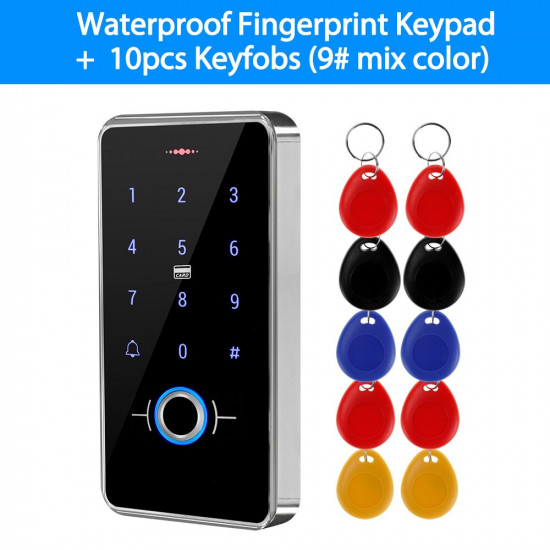 2-3 Days






User capacity: 120

Material: ABS high quality material

Panel: touch screen panel

Working frequency: 13.56MHz

Card reading type: support MF 1K compatible card

Card reading distance: 0-5CM

Identification method: Fingerprint, RFID card, password

Backlight: has blue backlight

Waterproof function: IP68 waterproof, can be installed outdoor

Doorbell button: support wired doorbell

Wiegand signal: WG26 input/output

Can set management card: yes

Working voltage: DC 12V

Working current: ≤ 30mA

Door opening time: 0-255 seconds

Working temperature: -20 ° C ~ 70 ° C

Working Humidity: 20% ~ 90%

Product size: 140*70*16mm
360 degree comprehensive fingerprint recognition, fast Identify Speed
For different angles of fingerprints, it can be quickly and accurately identified
Support Fingerprint, RFID Card, Password to open the door
Support 120 fingerprints, 120 cards, 1 public password user capacity, more secure!
Can set Management card. Very easy to program!
Don't need to connect to computer.
ABS fire retardant material shell
Touch keyboard, very beautiful design. Has a door bell button, can install a wired door bell!
IP68 Waterproof. Can be installed outdoor
With Full PC Glue in the back side, IP68 Rating, can work in the rain and storm
Blue Backlight keypad
The digits number can be seen clearly even at dark
Easy installation and operation
Based on advanced technology, fast recognition speed, high sensitivity.
Suitable for most major access control solution.
Product Analysis
1. Material: ABS
2. Working Frequency: 13.56MHz
3. Chip: Mi-fare 1k
4. Support: read only, not support write.
5. Reading distance: 0-5cm
6. Each one has a metal keyring.
7. Color: as picture show, if you want other color, please lease a message to us.
8. Quantity: 10pcs. If you want more RFID key cards, please contact us. Thank you!
Wiring Diagram:
(Note: Both of the power supply, lock, exit button are Not included in the package, need to buy extra)
Outdoor IP68 Waterproof RFID Biometrics Fingerprint Access Control Keypad Touch Keyboard 13.56MHz Electronic Door Opener System
Stock:

2-3 Days

Model:

F20

Dimensions:

140.00mm x 70.00mm x 16.00mm
Tags:
Outdoor
,
IP68
,
Waterproof
,
RFID
,
Biometrics
,
Fingerprint
,
Access Control
,
Keypad Touch
,
Keyboard
,
13.56MHz
,
Electronic
,
Door
,
Opener
,
System