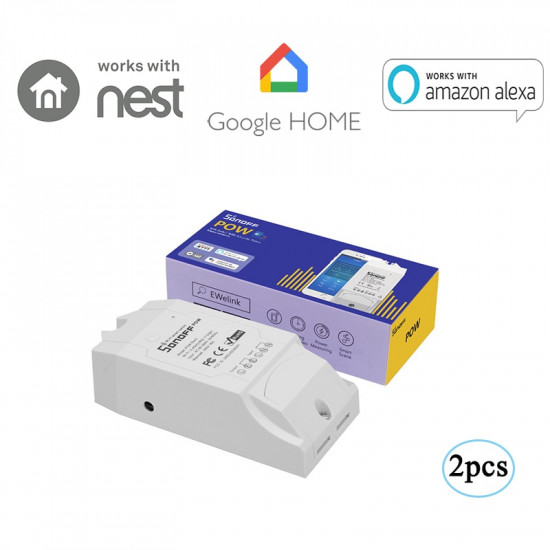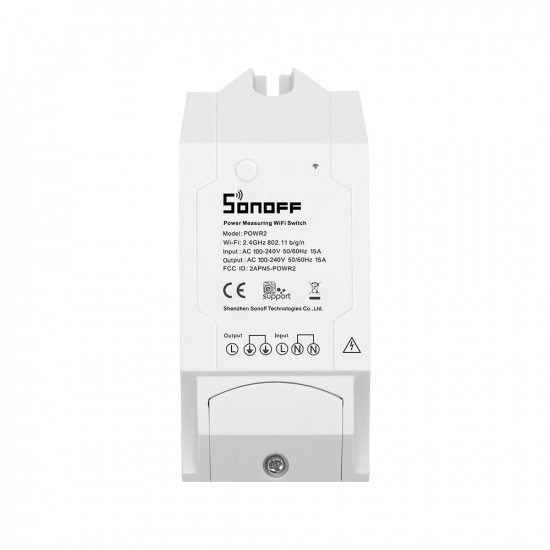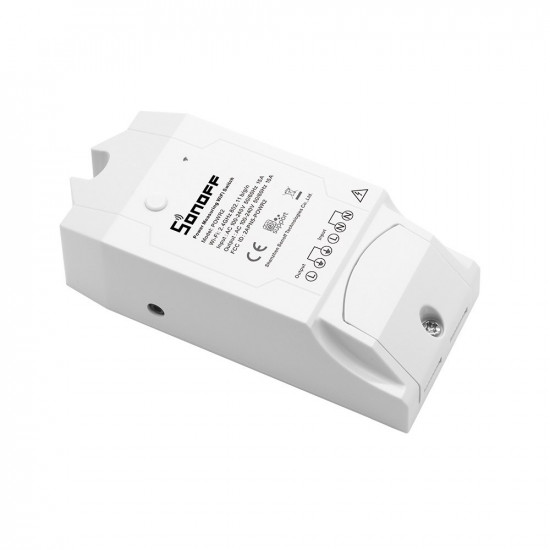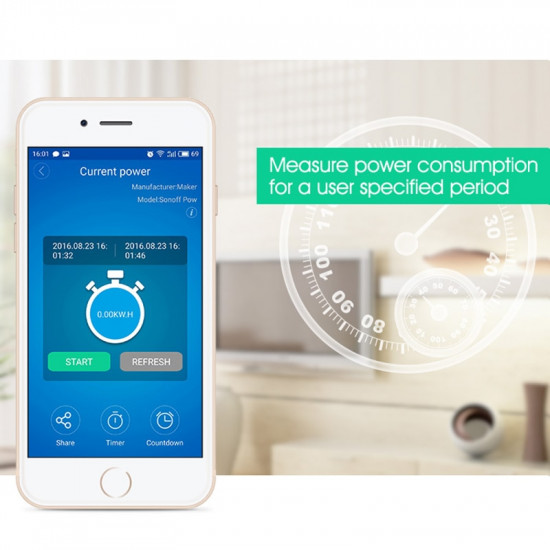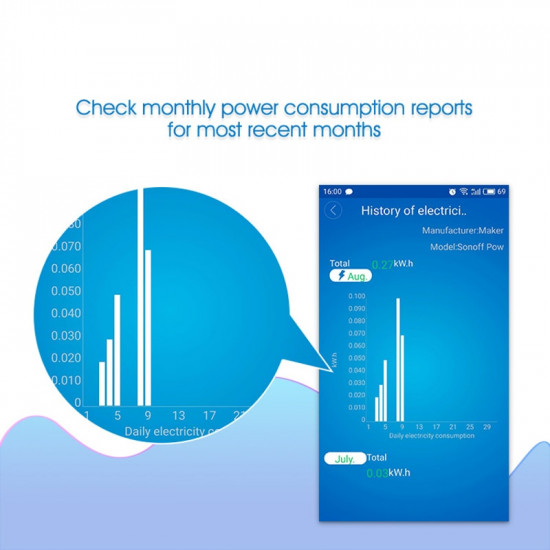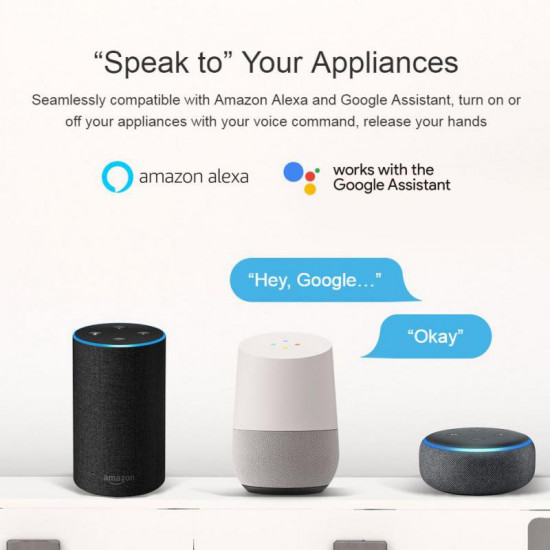 New






Sonoff Pow is a wireless switch which connects to electronic devices such as home appliances via WiFi. The electronic devices can be controlled by the mobile application eWeLink which can be run using WiFi, 2G, 3G or 4G network.

Sonoff Pow has the amazing capability to display the electronic device's instant wattage consumption. It also has the option to report the energy consumption in kWh over a period of time, and thus generate power consumption reports over a certain time interval, such as a month. Sonoff Pow, therefore, allows you to figure out which appliances in your home consume the most power so you can cut down your electricity bill.

Since Sonoff Pow belongs to the Sonoff family, it has all the functions of a basic Sonoff. Through the mobile application eWeLink, remote home control becomes a reality. Consumers can remotely control the operation of home appliances by turning them on, off instantly or according to a user specified schedule, such as repeat or countdown. Consumers can also share the remote access with others for a mutual control of the appliances.

Apart from traditional consumers, Sonoff Pow is a very exciting product for those into hacking, since four program ports have been reserved for burning external firmware. Now, isn't that thrilling?

Remote turn on/off using APP EweLink

Check power consumption over any time interval such as daily, monthly

Check energy consumption in real time (instantly)

Supports configuring fast SSID changing and password connection through eWeLink

Supports auto-connection to server, register and updating device status

Supports tracking device status on eWeLink

Supports single, countdown and repetitive tasks

Voltage range: 90-250v AC

Enclosure Dimensions: 114*52*32mm

Wireless Frequency: 2.4Ghz

Working Temp: -40 ℃ - 125 ℃
User Manual for Sonoff Pow
1.Download "eWeLink" app.
2.Wiring instruction
3.Add device
1.Power up your device.
2.Press the button for 7 seconds until the green LED blinks like this: blinks 3 times and on repeatedly.
3.For Android, please directly click the "Add" icon on eWeLink to search device, click next.
For iOS, please go to phone Setting>WiFi>connect the WiFi begins with ITEAD-******, enter default password 12345678. Go back to eWeLink, select the pairing method, click next.
The App will auto-search the device.
4.Input your home SSID & password:
4.1 Your SSID must be letters or numbers.
4.2 If no password, keep it blank.
4.3 Now eWeLink only support 2.4G wifi communication protocol, 5G-WiFi-router is not supported
5. Next, the device will beregistered by eWelink and add it to your account,it takes 1-3 minutes.
6. Name the device to complete.
7.Maybe the device is "Offline" on eWeLink, for the device needs 1 minute to connect with your router and server. When the green LED on, the device is "Online", if eWeLink shows still "Offline", please close eWeLink and re-open.
3.APP features
1.Remote ON/OFF
Turn on/off by tapping on device icon. Device state and real time power will simultaneously display on the interface.
2. Tap 1 to measure device's power usage for a period of time. Tap "start" to count the power usage, and tap "stop" to stop counting.
3. Tap 2 to check daily and monthly power usage.
4.Share device
Owner can share the devices to other accounts, but both of them must stay online at the same time.
5.Timing schedules
Support max 8 single/repeat timing schedules each device. Preset timers can work even WiFi is unavailable, but the device must keep power on.
6.Security mechanism
One device one owner. Other people can not add the devices that have already been added.
7.Update
It will auto-remind you of new firmware or version. Please update as soon as you can.
4.Problems and solutions
Read the detailed FAQ on Itead Smart Home Forum.
1. My device has added successfully, but stays "Offline".
Answers: The new added device need 1-2 min to connect to your router and the Internet. If it stay offline for long time, please judge the problem by the green led status:
1.1. Green led quickly blinks one time and repeats, which means device failed to connect to router. The reason may be you have entered wrong WiFi password or your device is too far away from router, which causes a weak WiFi signal. The device can not be added to the 5G-wifi-router,only the 2.4G-wifi is OK. At last, make sure that your router is MAC-open.
1.2. Green led slowly blinks one time and repeats, which means device has connected to router and server, but failed to be added to device list. Then power on the device again, if it still not working, just add the device again.
1.3. Green led quickly blinks twice and repeats, this means the device has connected to router but failed to connect to server. Then please confirm your WiFi router works normally.
2. Why the APP can not find the device in paring status?
Answers: That's because of your phone's cache. Please close the Wlan of your phone then open it after a minute. At the same time,please power off the device if you can,then power up to try again.
3. My WiFi is expired, can I connect the devices to LAN? Can my phone be directly connected to device hotspot?
Answers: Currently eWeLink do not support LAN or directly connect to deceive hotspot. All devices must be connected to router, thus they can communicate with the Internet cloud server.
4. The green led keeps off, even if the device is powered on. Press the button but the device does not work.
SONOFF POW R2 WIFI SWITCH WITH POWER CONSUMPTION MEASUREMENT
Stock:

In Stock

Model:

SONOFF POW R2

SKU:

1

SONOFF