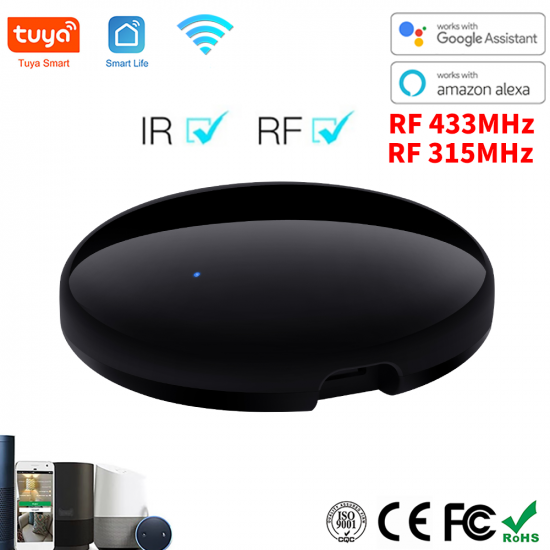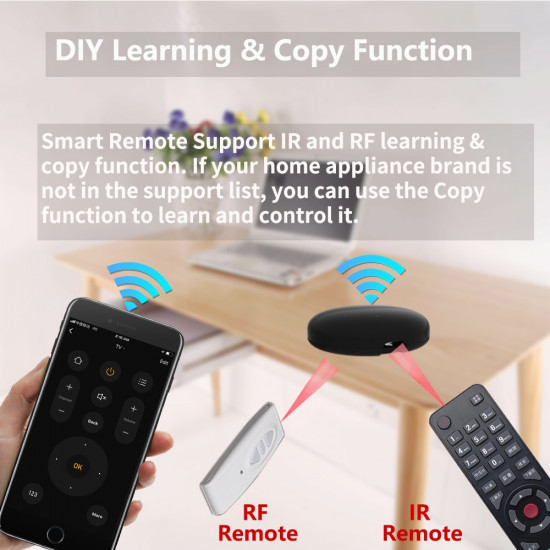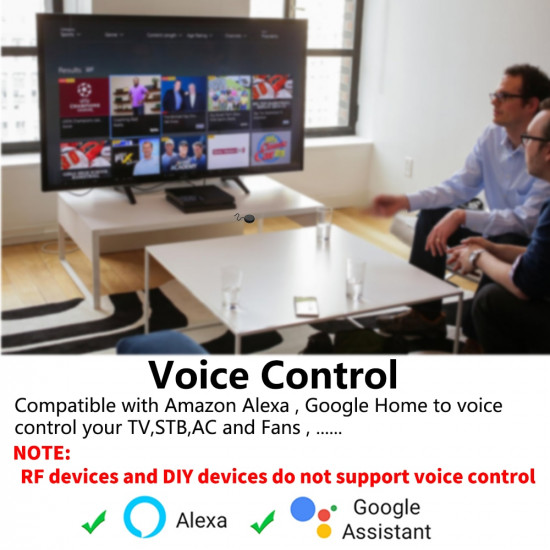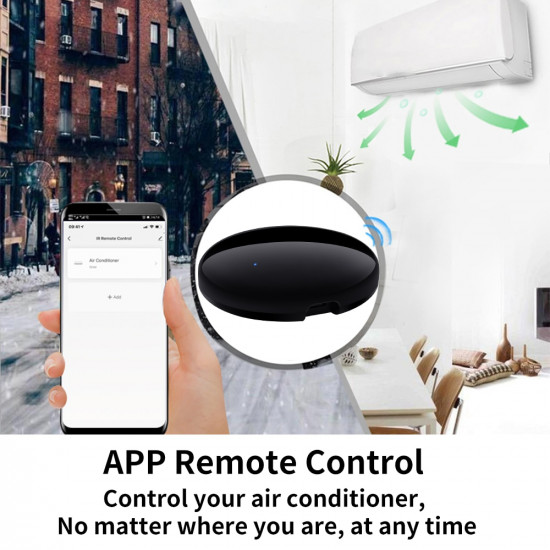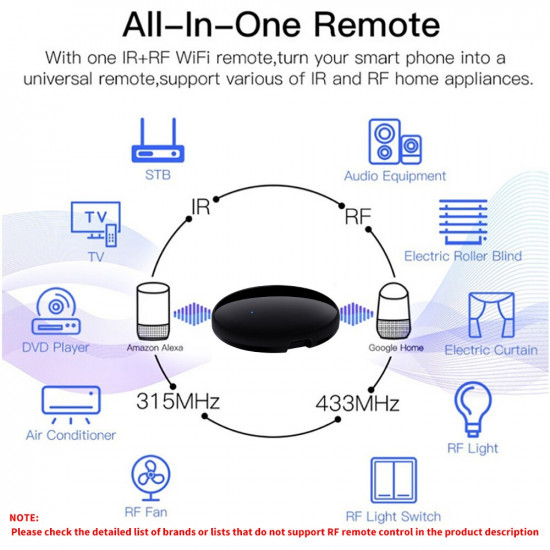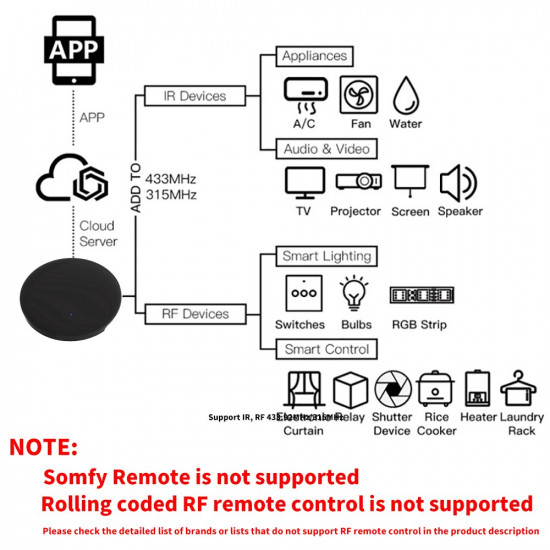 Product Features:
With this Universal IR Remote Control, you can use your smart phone to control home appliances, such as STB(Set-Top-Box), TV Box, TV, Air Conditioner, Fan, DVD, and RF devices etc.
Compatible with most of brands, for details, please refer to the supported brand list in App. Besides, it has LEARNING FUNCTON, allows you to copy the key function of original remote control to App.
Note: Not compatible with the home appliances which use RF used Rolling coding or BLUETOOTH remote control.

1. Massive IR Code Database
Support 4000+ brands, 50000+ IR Code on cloud, supported devices library is constantly being updated by the cloud.

2. RF(Radio Frequency) Copy and Repeat
Support RF Copy and Repeat. So it can support Curtanins, Roller Shutter, Window Pusher,Hanger, Projection Screen, Garage Door, Retractable Door, RF Switch, and even customized button.

3. App Remote Control
Remote Control your home appliances by using "Tuya Smart" App in your smart phone anywhere anytime. For example: Switch on home A/C in advance, enjoying the comfortable temperature once you get home.

4. Easy to install and connect to APP
Use the latest Tuya chip. After power is supplied to it, the APP will automatically find it through Bluetooth. You can connect it to the "Smart Life" APP with just a few clicks on the screen.

5. Voice Control
By connecting Intelligent speaker, such as Amazon Alexa, Google Home, you are able to control your home appliances by voice.

6. DIY
Customizing buttons in the Tuya Smart App if your home appliances brand is not in the list or not supported.
Product Parameter:
* Input: DC 5V/1A(Micro USB NO Adapter)
* IR(Infrared Frequency): 38KHz
* RF(Radio Frequency): 433MHz and 315MHz
* IR Remote Control Distance: 10m (Unobstructed environment)
* RF Remote Control Distance: 100m(Unobstructed environment)
* Connection: Wi-Fi 2.4GHz
* App: Smart Life
* Material: ABS
* Size: 60*60*20mm
Why choose this product?
Say goodbye to use remote controls for each of the IR home appliances such as TV, Air-Conditioner , TV box, light, Fan, Audio, etc.
You can remotely control these devices with the tap of your finger on the mobile App, also you control RF-enabeld devices like curtain, rooler shutter, garage door, RF switch, etc.
Please kindly read the user manual carefully before usage and keep it for future reference.
App Remote Control
Turn on your air conditioner, no matter where you are.
-Support 99% air conditioner in the market,automatic cloud panel match,one button download App to remote control
-Turn on AC in advance, enjoy the warm time when you get home
All in One Smart Remote Control
The Smart IR Remote expanded IR code library cover above 98% IR device. So TV, Air conditioner, STB Fan and lighting etc. which used IR Control can be control by it.And RF-enabeld devices like curtain, rooler shutter, garage door, RF switch can be control by it.
You don't need to worry about the problems you can't control, and finally we provide the copy function.
RF Remote NOT SUPPORTED
The following brands of RF remote controls or technologies are not supported by our products
Works with Amazon Alexa, Google Assistant
By connecting App to Amazon Alexa, Google Home, you are able to control your home appliances by voice. For example:
-Alexa, turn on the TV;
-OK Google, set air conditioning temperature to 25 degrees.
NOTE:
1. This product will not be displayed on Amazon Alexa and Google Home. Only the appliances remote added to our products are displayed on Alexa/Google Home/Yandex, and you can only control them by voice.

2. RF and DIY Device do not support Control Voice and can not support by Amazon Alexa , Google Home and Yandex Alice.
Timer and Automatic Trigger
Never miss one second of excellent match
-Stay up late for the match,but always oversleep?
-The smart remote control helps you turn on TV at right time and right channel. Enjoy your match!
IR & RF Learning Function:
Smar Life App provides Customizing and copy function.
If your home appliances is not in the brand list or not supported, you may use this function to copy the key function of original remote control to App.

NOTE:
1. DIY does not support voice control
2. Rolling coded RF cannot be learned
Wide IR Remote Control Range
Control the IR home appliances within 10 Meters in one room, can be used in most of living rooms and bedrooms with wide range,fulfill requirements of most families.
Control the RF home appliances within 150 Meters in the open space. The RF signal can pass through the wall, and the signal will become weak after passing through the wall.

NOTE:
1. IR can not penetrate walls, so make sure there is no obstacle between IR remote and the IR devices. So,If you want to control household appliances in different rooms, you need to install one in each room
2. Metal will shield RF signals.
Share the universal remote control with your family
Var Smart Life APP, you can share it with family.
Step 1: Create Home or Improve Home Information
Step 2: Invite members to join Home
Step 3: Family members agree to join Home
Maybe every room needs one
Infrared rays cannot penetrate the wall, so it cannot control household appliances in other rooms.
RF can penetrate the wall, but the signal will be weakened.
It is recommended to install a universal remote control in every room.

NOTE: The Smart IR Remote can control multiple infrared remote control home appliances, the APP does not limit the specific number, but they must be in the same room.
Which types are Remote Control support?
The Smart IR&RF Remote supports all infrared remotes and Not Rolling coding RF remotes.
But note that 2.4G remotes,and Bluetooth remotes are not supported.

Tips:
1. The infrared remote control has an infrared emitting tube, or the infrared emitting tube is protected by a black transparent window.
2. Long press the infrared remote control to start the home appliance, the long press function is not supported, other functions are supported.
3. Rolling coding RF remotes are not support. Generally speaking, the remote control with rolling code has a feature: press the RF remote control once, the indicator light of the remote control will flash multiple times.
360° Petal Shape IR &RF Emitting Lamp
Multi-directional launch, guarantee that every order will be served quickly and accurately.
Every components and parts are from the top manufacturer.
What is Included?
* Universal IR Remote Control x1
* Micro Charging Cable x1 (NO ADAPTER)
* Adhesive Pad x1
* User Manual x1
What does the app page look like
App may be modified to better. Here is just a reference
How connect smart IR&RF Remote to APP
Using Bluetooth to add devices is very simple.
Give app Bluetooth operation permission, app will automatically find the device to be added
How to add IR remote control. Take TV as an example
How to add an RF remote control. Take the switch as an example
tuya S12 universal RF IR and WiFi smart remote control
Stock:

In Stock

Model:

S12

Dimensions:

60.00mm x 60.00mm x 20.00mm
Tags:
Remote control
,
smart
,
universal
,
RF
,
IR
,
WiFi
,
tuya
,
S12
,
application
,
home automation
,
tuya algeria
,
googlehome
,
alexa
,
siri
,
google assistant
,
home automation algeria
,
smart home
,
smart home algeria