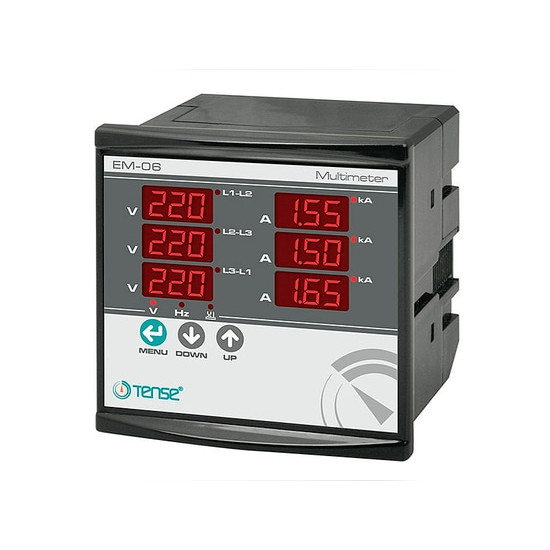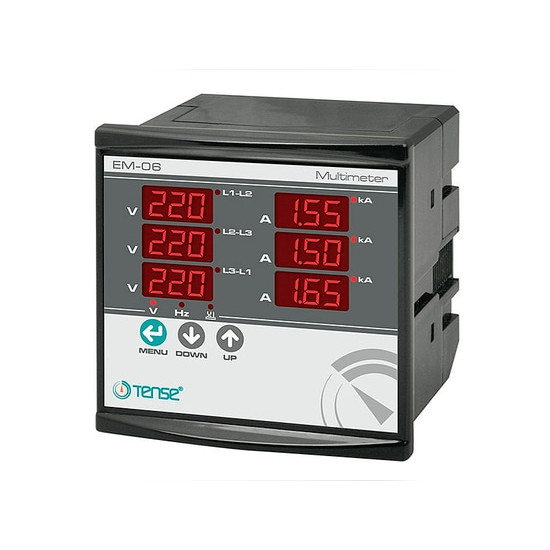 Panel Mount Three Phase Digital Multimeter (Electronic Modular Multimeter Network Analyzer), manufactured by TENSE, is used to monitor network parameters such as current, phaseless voltage (phase), phase-to-phase voltage (linear), network frequency in three-phase networks and are installed in switchboard equipment. EM-06,TENSION
The unique multimeter of the TENSE brand is a digital multimeter designed to measure the voltage between phases and phase and zero from 0 to 500V. Measuring current from 70mA to 5A.
The EM-06 multimeter model is equipped with 6 displays. An electronic multimeter, in addition to displaying voltage and current in the network, also measures and displays frequency and phase-to-phase voltage (I want to note that this is very convenient because it does not require re-switching of additional thread). The functions of the EM-06DIN multimeter do not end there, in addition to all of the above, this model also determines and displays the correct phase sequence. This model is installed in the DIN rail of the switchboard equipment or directly on the mounting panel (there are special "ears" for screw fixing).
Monitoring network parameters is the main task of a multifunctional multimeter:
current;
voltage between phases;
phase-zero voltage;
mains frequency (in three-phase networks)
In addition to digital and electronic products, in our store you can find dial and analog measuring devices (ammeters, voltmeters, etc.).
Multimeter connection diagram: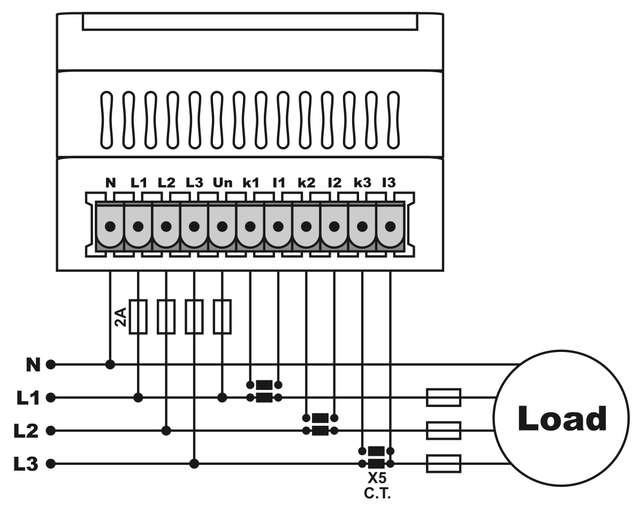 Settings:
Connect the multimeter to the mains according to the diagram above.
Connect current transformers to all electrical devices in the panel
Remember that inputs k1-i1, k2-i2 and k3-i3 of this multimeter cannot be applied more than 5 amps.
After you have applied power to the N-Un terminals and the device has turned on, please press the "menu" key. The second group of displays will show an indication like this "ct. 100/5".
Use the "up" and "down" keys to set the current for which your current transformers are designed. For example, if your current transformers are 250/5, then using the "up" and "down" keys, you need to set on the display such indication "ct. 250/5". After that, to fix your choice, press the "menu" key. Remember that all current transformers connected to the multimeter must be the same.
If the maximum current you set is greater than 1000 amperes, the kiloampere indicators should be illuminated. Please make sure that this is the case.
The first group of displays can show line-to-line, line-to-line voltage and frequency. To select the values ​​to display, press the "up" or "down" keys several times.
When the phase sequence indicator illuminates, the phase sequence is not correct. If this indicator is cut during the first connection, please swap the wires connected to the L1 / L2 / L3 terminals and make sure that the indicator is off.
MODULAR ELECTRONIC MULTIMETER: VOLTMETER + AMMETER + DIGITAL FREQUENCY METER ON DIN RAIL TENSE EM06
Stock:

In Stock

Model:

EM06

Tense
Tags:
Modular
,
electronic
,
multimeter
,
voltmeter
,
ammeter
,
digital
,
frequencymeter
,
din rail
,
tense
,
EM06-DIN
,
EM06
,
tense algerie
,
tense electric