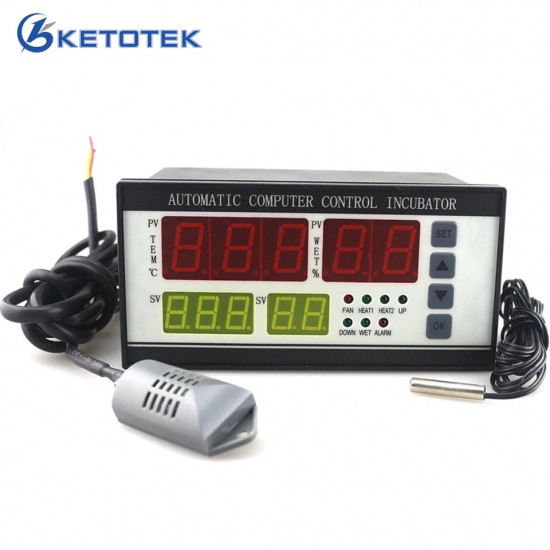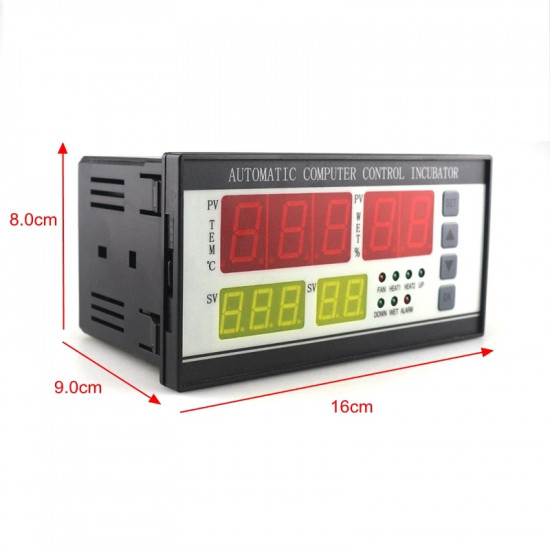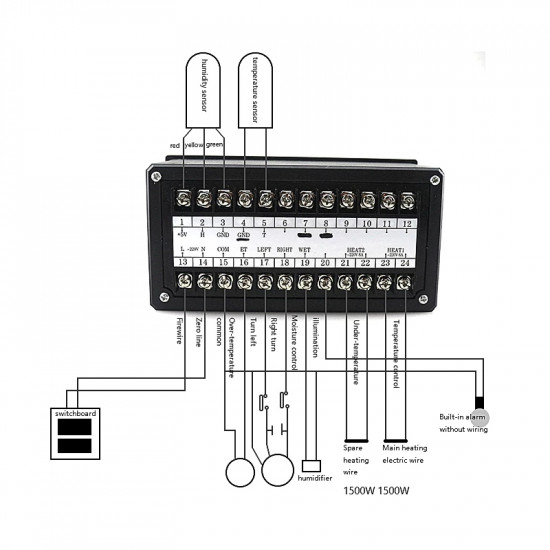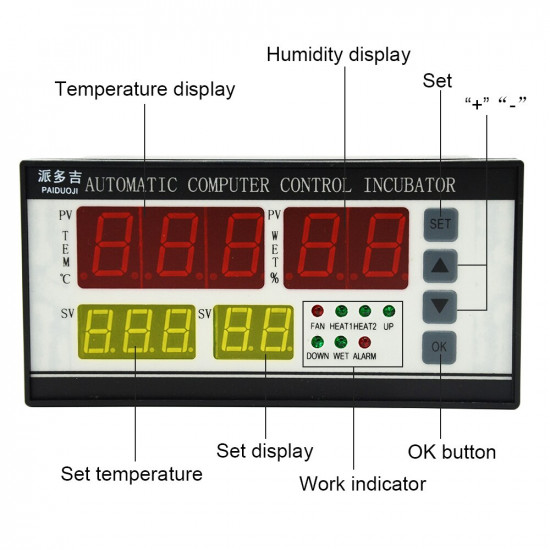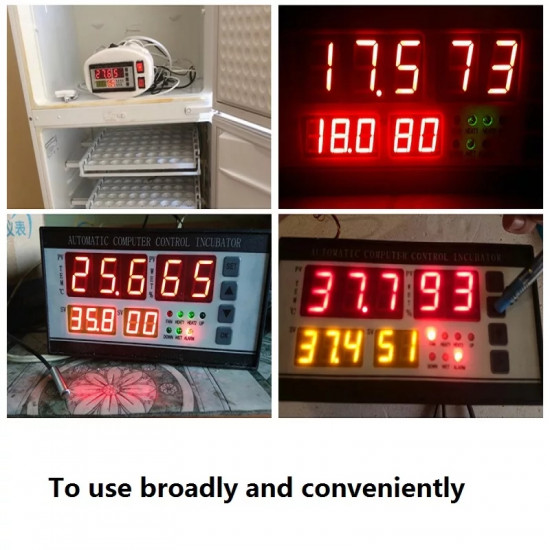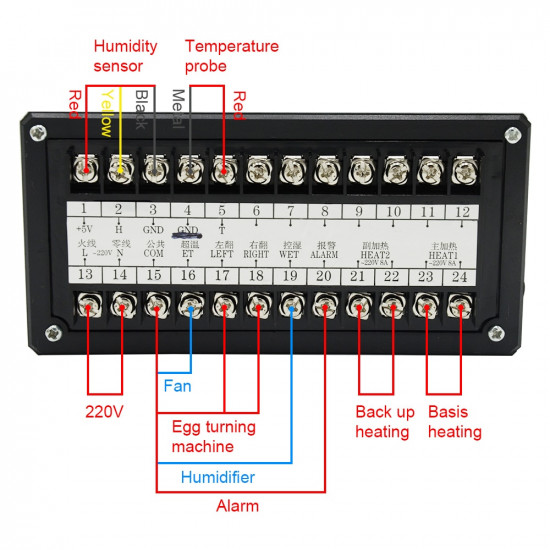 XM-18 Egg Incubator Controller Thermostat Hygrostat Full Automatic Microcomputer Control with Temperature Humidity Sensor Probe
Industrial
XM-18
1. Temperature display range: 0 ~ 99.9 C

2. Temperature measurement accuracy: ± 0.1 C

3. Humidity display range: 0-99% RH

4. Humidity control accuracy: ± 3% RH

5. Output path: 7 Road ( over-temperature, temperature control, insufficient temperature, egg-left turning, egg right-turning, humidity control, alarm )

6. The maximum output load current: temperature control, insufficient temperature <=

8A/AC 220V,

over-temperature,

egg-left turning, egg right-turning, humidity control, alarm<=

1A /AC 220V

7. Number of egg-turning : Maximum record 999 times.

8. Cycle of egg-turning: from 0 to 999 minutes (factory set at 90 minutes)

9. Turn the eggs time: 0 to 999 seconds (factory set at 180 seconds)

10. Ventilation cycle : 0-999 minutes (factory set at 120 minutes)

11. Ventilation time: 0-999 seconds (Factory set at 30 seconds)

12. The measuring line length: 1.5 meters
Working conditions:
1. Power Supply : AC 160V ~ 240V, 50Hz or AC 110V ( choose the one you need )

2. Relative humidity: less than 85%

3. Ambient temperature: -10 ~ 60 C
Package content:
1 x XM-18 Incubator Controller Thermostat Hygrostat

1 x Temperature sensor

1 x Humidity sensor

1 x Engligh manual
DIY Incubator accessories
1、DIY Mini Incubator Accessories
2、Exhaust fan evenly uses for a long time,quiet incubation
3、Incubator PTC heating sheet,automatic constant temperature,energy saving
4、Humidity probe:imported digital humidity sensor,long-term product performance and stable performance.
5、Designed for incubationDIY Handmade Incubator Shocks Experience
Name: DIY Mini Incubator Accessories
Panel size: about 33.2*3*10.2cm/13.07*1.18*4.02in
Turn egg frequency: 2H/time
Temperature control range: 37 ° C ~ 39 ° C
Scope of application: 48, 56, 96, 112
Packing size: about 34.8*7*14cm/13.70*2.76*5.51in
Parameters settings of temperature and humidity
1. Test:
After connecting the components as shown in the figure, turn on the power, you will hear the alarm sound caused by the temperature and humidity, and manually cancel the alarm.
2. Set the temperature and humidity, change the number of hatching days:
Press the SET button, press "+/-" to select the desired temperature, set the humidity and hatching days in the same operation (repeated twice), and finally press the setting to exit the setting. (Note: The factory setting is 37.8 °C, you can set 37.6 °C according to the above method. After setting the hatching days, the machine restarts.)
3. Low or high temperature alarm parameter setting:
Press the setting button for 3 seconds, press "+/-", the display screen will show "AL", then press the setting button, press "+/-" to select the low temperature parameter. Press the setting button for 3 seconds, the display shows "AH", and the high temperature alarm parameter is set as above.
4. Humidity alarm parameter setting:
The humidity parameter is set at 45% when it is made and it does not need to be reset. (If you need to set it according to the temperature parameter setting mode, the display shows "AS".)
5. Calibration of reporting of temperature sensor:
The normal temperature reporting is set at 0 ° C. If it is not correct, the setting can be made. The method is the same as above, and the display shows "CA". )
6. The upper temperature or the lower limit set:
If HS (upper limit set) is set to 38.2 and LS (lower limit set) is 37.4, the original temperature can only be changed from 38.2 to 37.4, and the lower limit should be 37.2.
7. Heating element settings:
The parameters HU and HD are set by the factory and do not need to be reset.(as shown)
1*electricity-powered fan

1*heated sheet

1*charging wire

1*panel

1*humidity probe

1*temperature probe

1*motor interface

1*egg motor
​
Thermostat Egg automatic Incubator Controller Hygrostat KETOTEK XM18
Stock:

In Stock

Model:

XM-18

Dimensions:

9.00cm x 16.00cm x 8.00cm

SKU:

1

KETOTEK